Good Sunday to everyone! I'm participating in For The Love Of Blog's "Comment Love Day", where you go and click on other blogs and leave GENUINE comments. Not just copy/pastes of "Nice blog." or "I'm following you, please follow me back.". It is a chance to REALLY know the writers and get a good chance to REALLY read what is on their mind or important to them.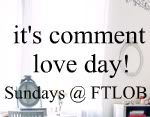 But before you go over there, be sure to also leave your link here as well. And feel free to also check out the links to my other two blogs.
If you wish to be a *FEATURED* Blogger,
CLICK HERE
.
If you want to see my (former) *haunted* home, where I grew up,
CLICK HERE
.
If you wish to see about the new group and chat area for parents of Special Needs children,
CLICK HERE
.