It looks like I just HAVE TO join in on today's PYHO with Shell. All thanks to my Bloggy-Buddy, Holly, over at
Holly's House (Not A Perfect Mom's Blog)
, where she talked about how people spout off with Diarrhea of the Mouth disease regarding her having four kids that are so close in age, with one being a child that has Downs Syndrome, and that she is also a STAY-AT-HOME Mom. I'm in the same boat, but with a different situation. We both have it involving kids. HER'S being a kid number thing. MINE is a kid vs. mom's age thing.
So, here is my Pour Your Heart Out (PYHO) post. If you wish to join in, just click on the button below and follow the directions..Oh! And please remember that this meme and those of us that participate do not wish to have negativity brought to our posts. For many of us, this may be our ONLY means of venting. So be nice, or shut your fingers off from commenting.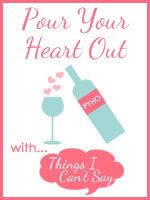 I am 34 years old. I am married. I have three children. Or at least that's what I have thought. I thought that I am to be considered an adult.
True, I have an eleven year old who is my weight and dang near my height. She is only off by about two inches to my five foot frame, which is pretty petite. I also still look fairly young to many of my peers.
My daughter has a brother who is only seventeen months her junior. Having them so close together in age, at times it honestly felt like I was raising twins. They have a little sister who is now six. My oldest was five years and ten days older than the littlest one.My son is about three and a half years older.
Over the years, I have had (officially) five pregnancies. In the end, I have three kids. You do the mathematical science.
Also, over the years, since having the kids, I have had (literally) countless occasions where I am out and about with all three kids where someone will stop me and ask "Are THOSE all YOUR kids?!". Of course, the two older ones turn around and start to snicker under their breath as I proceed to answer the dreaded comment. "Yes, they ARE ALL THREE indeed MY kids".
Which then (normally in the SAME conversation and in the same tone) comes the "How old ARE you??". I of course answer with "thirty-four" (or whatever age it's been in the past).
After that, it's like the idiot wishes to have a throw down match of wit and words, as if I am lying. "You CAN'T be thirty-four! You only look about seventeen!!", which is the better end of it. I once in a while get fourteen. Worst one of memory was when the oldest was eight months old, I was twenty-three and the dumb bitch ARGUED with me, saying there was NO way, and that I HAD TO BE twelve and BABYSITTING the kid.
I am SO sick of people ARGUING my age versus kid count ratio. Then look appalled when I tell them they are ALL THREE mine. Should I take my state-issued ID card, punch a hole in the corner and place a chain through it, then wear it like Military Dog Tags, with my information showing at all times?
People are SO damn rude. I get SO sick of hearing the above statements made TO MY FACE after answering their asinine questions. Especially when in reality, it's NONE of their business.
When someone is NICE enough to answer a question that in truth is just you being NOSY, here is some advice...
Take the answer to your STUPID question, shove it in your pocket, say something NICE back and then walk away and continue on with your day.
If you can't be cordial after asking such a personal thing to a STRANGER, then I suggest you say NOTHING at all, or shove it up your ass. Believe me, I am at the point in my life to say it too, if someone argues with me about my age and MY kids again in the future.
I CANNOT help it that I still look damn good (as in young-faced) for my age group. I don't smoke anymore. I rarely drink, and when I do, not excessively. I rarely, if ever wear makeup. And I eat fairly healthy.
And I also can't help it that my children (at least two of them, anyways) will be TALLER than I am. And I can't help it that one of them is basically already there. Blame her
wonderful and attentive
stupid piece of shit
father
sperm donor. He is six foot. I am five foot. Use your smarts and take it from there.
So take it from me, it's not fun to have to be FORCED to play "Twenty Questions" with people you don't even know, as you mind your own business, be it walking down the street, or walking around the store, and when you get TOO nosy, be ready to have it taken clean off.