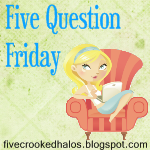 After noticing Megan, over at
The World As I See It
do one of these, it looks like something I just had to try out.
So, here is my answers for Five Question Friday...
1. Did you have a favorite blanket or toy as a kid? If so, do you still have it?
Yep! I most certainly did. It was handmade by my great-aunt, Anne (from whom I received my middle name from).
2. Do you dream in color?
Pretty much, all of the time. Though I do like black/white dreaming too. Makes you feel like you are in an old-time movie (like Casablanca).
3. How tall are you? Do you wish you were shorter or taller?
I'm 5-foot-even. Technically, by DNA standards, I should be between 5 ft.,3 in. and 5 ft.,8 in. tall. But, thanks to the 50 LB. tumor my mother carried as my close next door neighbor within the womb, I was a little crunched for space to grow normally.
4. If you could have anyone's (celeb or other) voice as the guide on your GPS, who would it be?
Do I really, honestly HAVE TO answer this one?? Because if you REALLY knew me, then the answer should be as plain as the nose on my face.
5. Do you return your shopping cart to the corral or leave it wherever in the parking lot?
All of the time, do I return the cart to a corral, or even in to the store it's self, if I'm parked close enough. As a former retail employee of three different grocery chains, I hated having to fetch carts from between cars, or even from neighboring retailer's areas.