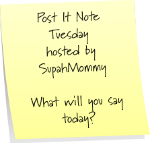 Come play with us in the sandbox! I promise, we won't shove sand down your pants and give you a wedgie. Go
HERE
to make your stickies.
This week, I have a couple of things to get off of my chest. Yeah, I know, my chest ain't all THAT big. Hell, I have a real 'combo pack' going on. But we aren't here to talk boobs, are we?
Anywho, my two main pet-peeves this week is kids on Summer Vacation and Retail Shoppers. They both drive me insane. Only difference is in the environment and the situation. The kids are mine, so nothing much I can do there. But I used to work in Grocery Retail. My husband still does. Let's just say, it's not a job for the faint of heart, shall we?