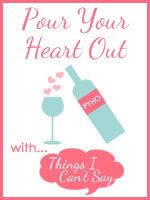 Do you need to pour your heart out about something? Then click on the button above to Shell's post at
Things I Can't Say
, grab a button to put on your PYHO post, and begin pouring.
Please be mindful that everyone linking to Shell's PYHO post is pouring their hearts out and we should all be respectful in our comments. ;)
In our school, they teach (elementary level) Pre-K, through 5th. Last year was THE day for my youngest. She was almost 5 then (will be 6 in a few months). I, like many, counted down the days, made everything sound right in the world to her in regards to going to "big kid" school. And I made it like it was block-party time because Miss Skyler was *GOING TO SCHOOL!*.
When the day was FINALLY here, we got her in her uniform (yes, we are a uniform school..blech!), her big sissy and bro-bro helped her pack her back pack and then all of us (incl. dad who went in late to see this) waited for the inevitable. The first bus ride "alone" as a fully independent child. Not the dependent baby I raised to get to this stage of life.
As we stood there, I had flashbacks of all three kids run through my head. Of when they were babies and toddlers. And then I saw before my eyes, the wonderful children that they (at this point in their lives) have thus far grown up to be.
Sure, I smiled, laughed, made it all-out exciting and positive. But I was dying a little inside. It hurt to see my last baby go off. And seeing Skyler get on that bus did me in. Yes, I kept that slapped-on smile upon my face, and I waved to her as they started to pull off. But, as soon as they were out of eyesight, I lost it.
No longer could I hold back the hurt that my heart felt. The tears in their dam were no longer able to be kept at bay. Reality hit me square in the face, and in the heart.
Walking back in to the house, it was eerily quiet. I was so used to hearing Nick Jr. on the television and seeing Skyler munching on a morning goody (cereal mainly).
But on that day, it was just me and the cats. No "Mama!! I'm thirsty.", or "Mama! Where we go today?". Because, she was at "big kid" school.
This year, it will be a bit better. And Skyler is SO very excited to be going back to school. So is Bryce. Hayley on the other hand? She is 50/50 on the subject.
I get to do this again NEXT year with my oldest, who will be in Middle/Junior High School. It will (I'm sure) be riddled with many of the same fears as I had with them going off to Kindergarten (or Pre-K in Skyler's case) for the first time. Only this time, with MUCH more peer pressure and other "really big kid" things.
Even now, I can see Hayley (and yes, Bryce, too) as they were in the days of where Skyler is now. And all I can wonder at this point is...
God, where does the time fly off to? It all happens so quickly.