..Comment Love Day!!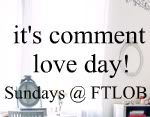 The main rule is that you MUST leave a GENUINE comment on posts. None of that copy/paste schpeel or "I'm a new follower, follow me back!" crap. REAL comments.
I'm participating through
For The Love Of Blogs
and this is how it goes, per
THEIR
rules of playing along...
Link up below and then
leave a comment
.
After commenting, please visit the blog who commented before you and leave them some comment love. Remember, no cut and paste!
Then visit 2-3 other blogs from the hop and make some new friends!