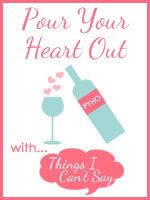 *Please remember, for some of us, this is the only place to be able to vent in a safe way, as to avoid the unneeded negativity that may already be occurring in our lives. In other words, if you have nothing constructive, and uninsulting to say, please refrain or move on. Or else, I let Angel come at you with one of her flaming vlogs.*
Yesterday morning, over on my FaceBook profile, I put a little lighthearted post up about this being the last two weeks of school. My exact words were...
"All the kids are off to school and here I sit, sipping my second cup of coffee. Best enjoy it while I can. In two weeks, the peace will NOT be with me. For 2 months."
In a nutshell, I meant no malice. I was not whining (as a friend had stated on behalf of her sister) and yes, indeed KNOW that I am VERY fortunate to be home with my kids.
But it wasn't always this way. I have also been a working mother as well in my time. And I missed some important areas of growth in two of my children because of it. When my third (and last) came along, I quit my job because honestly, there was no way, even with BOTH of our incomes, could afford full and part time child care for THREE kids. So I left and never went back in to the workforce.
ALL of us mothers (and fathers) work hard. Both inside and outside of the home. Only real difference is that some mothers get to earn monetary income, as well as have the house duties (and parental duties). And some of us don't earn more than kisses or hugs, which in my mind trumps all the monetary pay in the world.
"I would say you are pretty lucky!"...Yes, I am. But also, I didn't post what I did as to gain sympathy or bragging rights.
Is this what posting anything in the way of parenting has come to? Picking a war over a joke? Hell, I even made it in to a "Yoda-ism" near the end.
I'm NO better in the parenting department, being a mother who stays home, than the working girl next door with a kid or two. We both have the same job description where being a parent is concerned. Love, nurture and support our kids.
But believe me when I say, staying home 24/7 is no real picnic either. I would LOVE to be able to once again earn money from a day's work. I would love to have ADULT interactions outside of my home and the school setting (where I volunteer).
Then again, my line of work to go back to would NOT allow me the schedule I would need. Not in the retail life. It's not a "9 to 5" environment with every weekend off. And you can never really plan anything around your schedule, because that ALWAYS is changing.
Basically, there are pros and cons in BOTH areas of being a parent who works and who stays home. I may JOKE about the fact that Summertime will bring me little to no peace (which is VERY true), I will STILL enjoy the time I will have with my kids being home.
Like another mommy-friend said to me last night, "If your children don't annoy you at least once a week, you aren't around them enough". So true there! And believe me, I'm around mine enough, that the gray hairs just keep piling on my head. But I don't love, nor do I not want to be with them any less.
That FB post meant that I am being HUMAN, as well as realistic of what's to come with Summer break looming.
Just because I am a mother, it does NOT mean I have to "enjoy" having NO peacefulness or "me time" to take time for ME, and instead place myself last.
Which I do anyways.