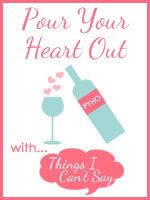 It's Wednesday, and it's anything that YOU consider pouring your heart out about today, as well. There isn't ever a theme or topic that you have to blog about- it's completely a personal thing. If you wish to participate, please feel free to click on the POUR YOUR HEART OUT button above and you will get all the info on this carnival that you need.
Seeing what Angel is going through, with her mom having a heart attack and Angel's sheer will to be "the rock", had me going back through time. To twenty years ago in to my past (will be 21 in October).
To this day, I remember waking up to my dad yelling at my mom to "wake up" over and over at six in the morning, along with that loud banging noise he kept making on the coffee table beside her.
When I had gotten up and went to the living room, I saw my mother sitting there. But it wasn't her. By that time that damage was done and it was too late. She sat in the chair of her's for HOURS before the discovery by my father. She was in and out of conscientious, you had to yell at her for her to hear you, she wasn't able to speak or move one side of her body. Hours later, after she was taken to the hospital, I sat in her chair to get ready for the day, only to realized she lost her ability to hold urine, being I sat in pee that SOAKED the chair.
Later on in the day, I found out that my forty-three-year-old mother suffered a massive stroke and survived it.
To have to see her in the hospital, and then the Rehab/Nursing Home Center crushed me. I was only twelve years old at the time. Later in life, I did find out she tried to starve herself to death, being she didn't want to live that way. She felt like she was a burden to both myself and my father. Near the end she had to be trached (a tube placed in her throat to help her breath) thanks to the paralysis harming her lungs, as well as STILL near the end, battling lung infections.
For all the times that I went to see her, before leaving I always told her "see you later". And she was in the hospital for twenty-eight days (Rehab Center, actually).
But on that last Saturday, which was her last, full day of life, I told her, with no one else around that it was "okay to go home". I gave her the RIGHT to die. I gave her the PERMISSION she seeked from my father. When I did, I let her know we (Dad and I) would be okay and that I understood.
Under that, though, in my mind I could hear myself getting angry. I did NOT want her to leave me. Not yet. And I resented my father, who must not have cared (in my mind) enough to let her go and be in peace. Why ME? I was only twelve. A child. And I had to do some VERY grown-up things at that time of my life. Both with her in the hospitals and after her death.
What did she do to deserve her fate? And what did I do to have to live my life without my mother, and see her slowly rot away for a month, and could do NOTHING for her, but release her.
As I have gotten older, I have learned some valuable lessons. Starting back twenty years ago, as I loved my mother the best that I could for that last month, before I actually of all the times, on her last day of life said "good-bye, Mom", instead of "see you later".
1) Life will NEVER be fair to you.
2) We all will lose those that we love and cherish in this life. No way around that.
3) Be strong. But learn to let it go and stop being other's rocks, to take time for YOU.
4) We will always have "WHY?" moments. And not all of them will have an answer.
5) Yes, the pain of loss does go away. But NEVER, EVER completely. A piece of your heart will ALWAYS hurt and yearn.
6) Timing is not always on our side. Feel blessed when it is, and ask for courage and strength to walk through the fire when it isn't.
7) It's okay to be angry and/or sad. Even twenty years later.
8) Doctors are not God. They can only do so much. After that it's up to the patient and up to God what happens from there. There is nothing you can do about it.
9) Life's lemmons sometimes stay sour, no matter how much sugar you add. You still have to drink it.
10) Trials by fire don't ALWAYS leave you burned at the stake. Good can come from tragedy. Like a new lease on your life and three kids, with a wonderful husband to boot.